Look, no one tagged us, but I saw this lovely post on B & C Book Blog (who, by the way, also have an A+ instagram account, go look) and I just had to gently nudge my team into participating. The tag is originally by Kimberley Faye Reads, where she has a .zip file for all the images used, in case anyone else wants to join in the fun!
Okay, let's get to it!
NOTE: This tag has the potential to get pretty spoiler-y, so approach with caution.
An upcoming release you can't wait to get your hands on.
Yash: "The Midnight Star" by Marie Lu! The final book in The Young Elites series. It's meant to be out this year, but they haven't even released the cover yet and anyway, who even cares about the cover, someone please just tell me whether my babies Adelina and Magiano will be okay! *bites into cuticles*
Nafiza: I haven't yet read The Rose Society so for me the urge isn't as immediate. What I want (and simultaneously don't want) is The Raven King by Maggie Stiefvater. I KNOW that someone I like will die but I must find out how it all ends. *sweat drop*  If I'm strong enough. I'm already tearing up.
Janet: Goldenhand by Garth Nix. I can't believe we actually get more of the Old Kingdom in the time of Sabriel, Lirael, et al. This is such good news I could levitate <3
Favourite series starter.
Yash: Gotham Academy: "Welcome to Gotham Academy" is a wonderful first book.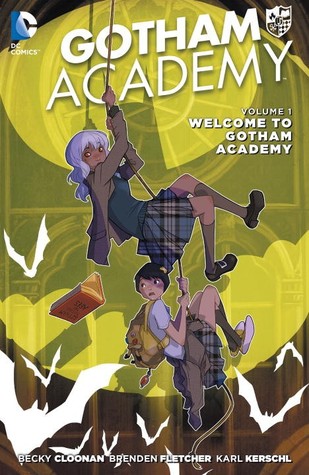 The first volume is actually all that's out, but I can not wait for the next volume. I'm almost considering buying the issues even though I know I will hate myself for it when I inevitably buy the second volume too.
Nafiza: Okay actually I second that, Yash. I loved Gotham Academy too. (I was going to say first but I didn't want to be bratty. Haha.) You know when you reach the end of the first book and beam so hard that your cheeks hurt? That was me at the end of Cracked by Eliza Crewe. I recently talked about the book (last week) and I remembered just how awesome the reading experience was. I have other books that I have liked a lot but this wins because I just–the feels, ya know?
Janet: Keeping to fantastic first graphic novels, how about Zita the Spacegirl: Far From Home by Ben Hatke.
A book that gave you all the fuzzy/warm feels.
Yash: Jason Reynolds' The Boy in the Black Suit.
Just thinking about it makes me sigh happily.
Nafiza: Ooer, this is going to be a tad bit difficult. I don't usually read books that gives me the fuzzy feels but let's see. Small Damages by Beth Kephart is one. I mean, the ending was superb and warm and fuzzyish. So. Yeah.
Janet: The Girl with the Brave Heart by Rita Jahanforuz and illustrated by Vali Mintzi. The illustrations and the narrative are very satisfying. The Minstrel and the Dragon Pup by Rosemary Sutcliff and Emma Chichester Clark for the same reason.
A book that made you ugly cry.
Yash: I don't know if I ugly cried, but …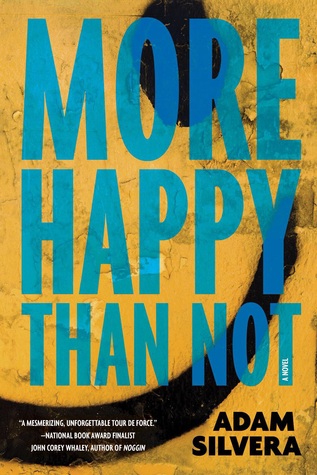 Adam Silvera's More Happy Than Not is like multiple punches to the gut. And heart. And brain. Okay, maybe I cried.
Nafiza: The Book Thief by Mark Zusak. I knew that moment was coming; it had only been referred to a dozen times so I should have been prepared but damn it when it did come, I was like…shock and shock and denial and wailing and tears and snot and yeah. It wasn't pretty.
Janet: Plain Kate by Erin Bow. Nafiza had warned me and I still sobbed buckets. I was about out of tears by the time I reached the end. It was exhausting. (A good book! But you will need a lot of kleenex.)
A character you'd consider to be your patronus.
Yash: SURPRISE: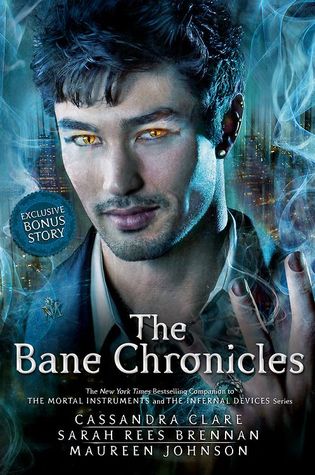 And by SURPRISE I mean PLEASE DON'T HURT ME FOR BEING SO DAMNED PREDICTABLE, but it's been months (years, maybe) and still, nothing cheers me up quite like listening to Jesse Williams reading "What Really Happened in Peru".
Nafiza: Vikram the Vampire (who is actually a djinni) from Alif the Unseen by G. Willow Wilson. I don't know what that says about me but I cannot think of anyone else.
Janet: Sophie Hatter from Howl's Moving Castle by Diana Wynne Jones, perhaps. I don't think Sophie would be pleased about being summoned, though. On the other hand, having her there to set things (and me) in order would be marvelously entertaining and instructive.
A book you intentionally spoiled for yourself.
Yash: Ugh …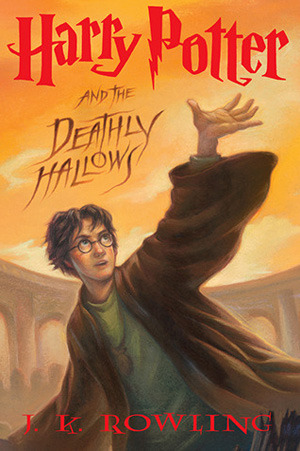 … it did not turn out the way I'd hoped. The poor Lupin-Tonks. :( I think the experience kind of cured me from doing this. Much.
Nafiza: I am sorry for this copout but I honestly do not remember which book it was that I spoiled for myself last. One of the books I did was Forbidden by Tabitha Suzuma and I don't want to talk about it.
Janet: The first book I remember intentionally spoiling was The Body in the Basement by Norah McClintock. I was young. It was a murder mystery. I just wanted to make sure everything ended all right so that I could read the rest.
A book you wish you could make everyone read.
Yash: Courtney Summers' All the Rage.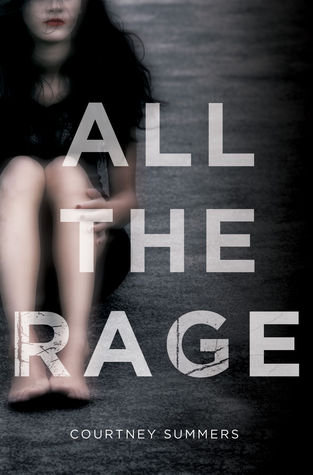 I'd have this in everyone's hands if I could. I mean, I hate to say it, but this book may always be relevant.
Nafiza: The History of Love by Nicole Krauss. It's beautiful and tragic and just makes me feel things and cry on the bus. Yeah.
Janet: I don't know. I don't want to make anybody read anything. (I do, however, want to make people want to read things.)
A book/series you wish never ended.
Yash: I am not sure if I can link to the cover of this one, lest it be too "adult"–a funny thing to worry about given the number of YA books that sexualize teenage girls to the extent of drawing our eyes only to their bodies by cropping out their heads–but Sunil Patel's short story "The Merger: A Romantic Comedy of Intergalactic Business Negotiations, Indecipherable Emotions, and Pizza" is my pick for this one. (I've linked to the story, but note that it isn't marketed as "children's lit".)
Nafiza: Skip Beat by Yoshiki Nakamura. Okay, I've been reading this manga for years now. It releases a chapter per month and often ends on cliffhangers BUT it has become something to look forward to. The fanfiction is out of this world too, haha. I know it's winding down and probably will wrap up in a year or two but Kyoko's world is such a compelling one and her character has so much potential for more stories that I'm going to be sad when it ends.
Janet: Diana Wynne Jones's Moving Castle books. Each was self-contained (except for the third) and extraordinary and she said some time before her death that she had ideas for another Howl and Sophie book. Now we'll never get to read it. Blast. I'm tearing up.
An uplifting book.
Yash: Ms. Marvel: Last Days for sure.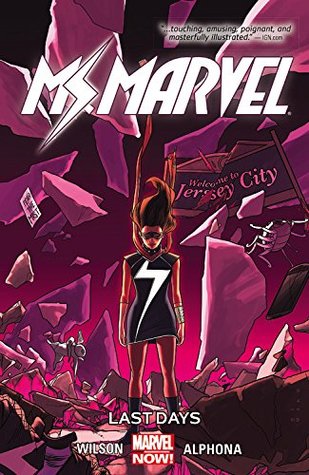 I know the cover and title make it look very dire and depressing, but that's what makes the ending so wonderful and full of heart. <3
Nafiza: This is Sadie by Sara O'Leary and Julie Morstad. Have you read this picturebook? If not, go read it and then get it for your niece, nephew, kid next door. It's awesome. Get yourself a copy too while you're at it.
Janet:  Stay Strong: A Musician's Journey From Congo by Natalie Hyde is Canadian non-fiction about singer-songwriter Gentil Misigaro.
A book you wish you could forget.
Yash: Oh, boy. Um. Yeah.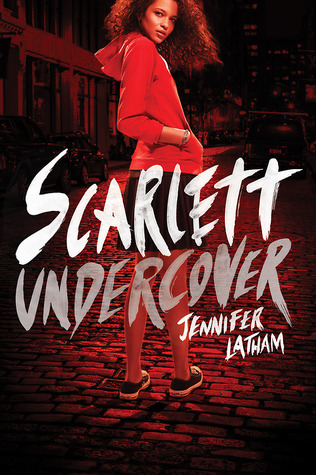 I didn't even finish it, but what little I did read, I wish I could wipe from my memory. Not mentioning/linking/tagging the title because I hear the author has a history of butting into bloggers'/readers' conversations and I just don't want to deal with all that drama.
Nafiza: Yeah, I second Yash. That title. Also one I actually did read A Song for Ella Grey by David Almond. I wanted to scrub my brain after I was done. Yes, it is that bad.
Janet: Hush, Hush by Becca Fitzpatrick. Aside from the thoroughly unhealthy relationships, I couldn't get a handle on what was going on – where the protagonist was (what does it look like? where are rooms, buildings, places in relationship to one another?), what the people around her were like, motivations… Nope. And I won't even mention the "fated" love story (blurg) and terrible theology. (I will mention how much I like apophasis, though. Fabulous rhetorical device.)
A book/series that got you out of a slump.
Yash: Definitely Tiny Pretty Things by Sona Charaipotra and Dhonielle Clayton.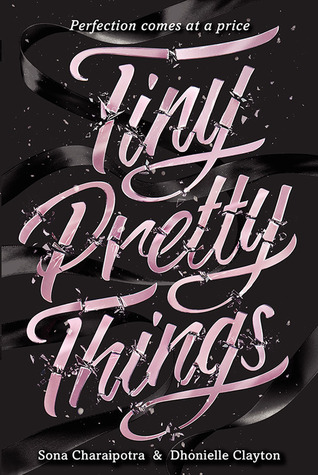 Start to finish, I was hooked. Obviously I was sad when it ended, but I also felt pretty good about finishing a novel when I'd spent a while before that starting and stopping several books.
Nafiza: The Astrologer's Daughter by Rebecca Lim. I was actually tired of YA and this got me excited about the genre again. It was lovely and I hope to read more from Lim soon.
Janet: The Goblin Emperor by Katherine Addison. It was a breath of fresh air, and enthralling from beginning to end.
A swoon worthy character.
Yash: I was *this* close to agreeing with Bia's pick of Jem Carstairs, but then I remembered:
Magiano from Marie Lu's The Rose Society. I just. He's just. I mean. *__*
Nafiza: Elliot from The Colours of Madeleine by Jaclyn Moriarty. He is charming and he bakes delicious cookies. Seriously. HE BAKES. What else would a girl need?
Janet: Priamos (A Coalition of Lions) and Mordion (Hexwood).
A book that made you drop everything in order to finish it.
Yash: Corinne Duyvis' On the Edge of Gone.
I believe I made my feelings on this book very clear, but just in case you missed it: OH MY GOSH HOW DO I GO ON WITH MY LIFE NOW?!
Nafiza: The Scorpion Rules by Erin Bow. That book was so urgent and immediate with such stakes and such compelling characters. A f/f relationship that's based on friendship with equal power on both sides. A villain who straddles the fence enough that you cannot call him a villain without realizing that you would do exactly the same thing in his position. And that ending, dude that ending.
Janet: Firewing by Kenneth Oppel. There was no putting it down, not until the bittersweet end.
A book that was painful to read/a book that broke you.
Yash: Hannah Moskowitz's A History of Glitter and Blood.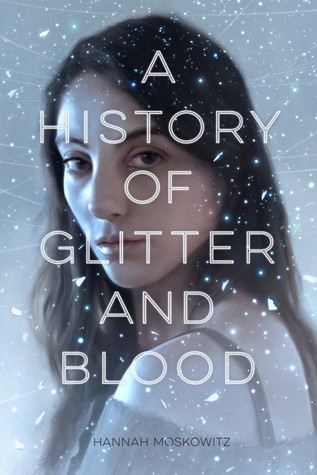 It was the most brutal flight read ever and I didn't even have anyone to cry to or any space to walk around in frustration. A good book, to be clear. Just. Ouch.
Nafiza: *stares at Yash balefully* All the Rage by Courtney Summers.
Janet: The Book of Mordred by Vivian Vande Velde.
A book that made you laugh out loud.
Yash: Recently? Definitely Megan Whalen Turner's The Thief.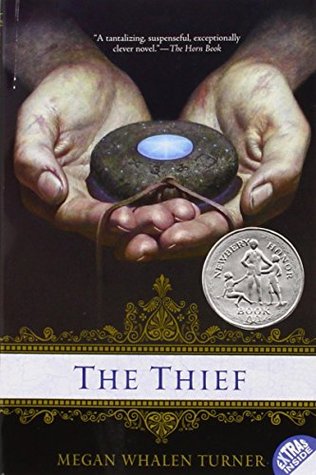 I am so glad that Turner chose Gen as the protagonist and narrator. It's fun being inside his head.
Nafiza: Angus, Thongs, and Full-Frontal Snogging by Louise Rennison. The book is the best kind of mad. I laughed like a hyena chuckled out loud in public garnering suspicious looks from several strangers.
Janet: Audrey (Cow) by Dan Bar-El and illustrated by Tatjana Mai-Wyss. The characterization and development was just brilliant. I loved the different perspectives on events and on other characters.
A book you wanted to fling away.
Yash: I don't fling books. I don't even want to. Although, if I had to pick a book to recycle (again), I'd pick the same one I chose for "Obliviate".
Nafiza: I don't either except I hand it to other people or donate books and my choices are the same as in Obliviate. I'm just echoing Yash.
Janet: Headhunter by Eric Howling. I may use it an example of how not to write someday. (I didn't actually throw it, though. I don't generally do that to books.)
A fictional world you wish you could visit.
Yash: Again, SURPRISE! *points to Expecto Patronum* Except, I wanna see what the Mumbai Downworld be like in that universe.
Nafiza: The Night Circus by Erin Morgenstern because I really want to go to that circus. It seems so wondrous and delightful and I hope a lot of money when I go because I want to try everything.
Janet: Aksum, during the childhood and youth of Telemakos (Elizabeth Wein's Aksumite-Camelot books). Although not during the plague outbreaks, okay? I'll skip those parts by going to Ingary. And Eddis (or Attolia) (or both) (definitely both). And Goredd for the music and Belondweg.
A plot twist you did not see coming.
Yash: Nova Ren Suma's The Walls Around Us.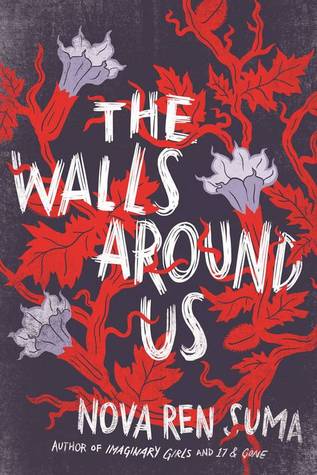 Those who know, know.
Nafiza: A Tangle of Gold by Jaclyn Moriarty has the twistiest twist out of all the twists I have ever read. Like it threw me totally. I sputtered, I jumped up and down, then raised quavery hands to my face disbelievingly. Then read the passage again and damnn.
Janet: Baba Yaga's Apprentice by Marika McCoola and Emily Carroll. The part involving children and Baba Yaga's hungrier side, and how Masha manages this.
A character death that destroyed you.
Yash: *gross sobbing*
*continues sobbing*
Nafiza: Yaaash, who dies? Why? NO. What? I don't want to read it anymore. Whyyyy? For me, the deaths (yes plural) in The Seven Realms series by Cinda Williams Chima was difficult to handle. Like, ouch.
Janet: Harry Potter and the Deathly Hallows was pretty rough. Also the first death in Audrey (Cow).
Best concluding book in a series.
Yash: I'm tempted to put Sarah Rees Brennan's Unmade here as well, but since it's tied with The Last Guardian by Eoin Colfer …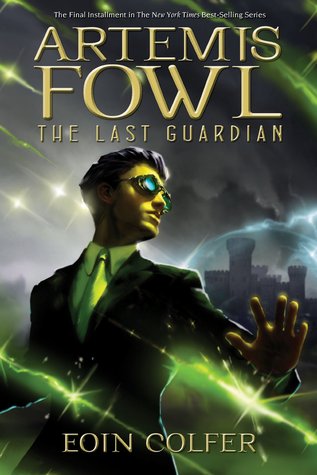 Please tolerate my nostalgic sighing starting n–*sigh*
Nafiza: Without a doubt, for me, the crown belongs to Dreams of Gods and Monsters by Laini Taylor. It was perfect.
Janet: How the Light Gets In by Louise Penny isn't the last in the series (there is one more currently out, and more to come, I think!) but at the time I thought it was, and it ended brilliantly.
We're tagging:
Elizabeth /  So Long … And Thanks For All The Fish
And whoever else is interested! Let us know what your picks are!