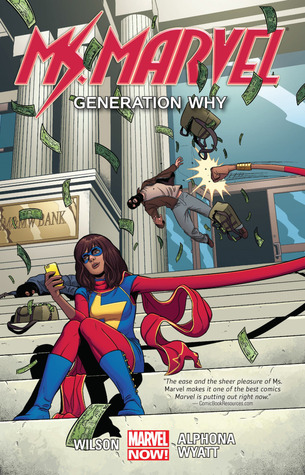 Who is the Inventor, and what does he want with the all-new Ms. Marvel and all her friends? Maybe Wolverine can help! Kamala may be fan-girling out when her favorite (okay maybe Top Five) super hero shows up, but that won't stop her from protecting her hometown. Then, Kamala crosses paths with Inhumanity for the first time – by meeting the royal dog, Lockjaw! Every girl wants a puppy, but this one may be too much of a handful, even for a super hero with embiggening powers. But why is Lockjaw really with Kamala? As Ms. Marvel discovers more about her past, the Inventor continues to threaten her future. — [X]
UGH I WAS SUPPOSED TO BE ON A BOOK BUYING BAN WITH NAFIZA BUT I WASN'T STRONG ENOUGH I MUST HAVE PAID THE BOOKSTORE WITH MY FIRSTBORN OR MAYBE AN ORGAN.
*ahem*
The last time I talked about Ms. Marvel, I managed to wriggle out of that month's theme. But, luckily, Ms. Marvel: Generation Why does actually talk about friendship! So, this post doesn't have to be as stretchy as Kamala's polymorph powers.
Let me start by reminding readers how it is customary to lower ones expectations before diving into the sequel of any beloved first book in a series. Now that I have made the proper disclaimer: proceed to ignore my reminder! That's right. Volume 2 of Ms. Marvel has what I like to think of as the Ronan Lynch Quality: the sequel is just as good as (maybe even better than) the book before it! (Maybe this was obvious to everyone already since volume 2 debuted in March at #4 on the NYT Bestseller list– and it's still in the top ten!)
Diving back into Jersey City with Kamala Khan felt indescribably good. Maybe it was the long gap since I'd read volume 1, but the art seemed to be more gorgeous than I remembered. The colours aren't garish but neither are they dull or lifeless, the settings feel so real that I wondered if certain fantastical buildings were real and could've been photographed for reference, and the people– from the non-supers that populate Kamala's city, to the friends who populate her life– are all so diverse, not just in race but also in body type. The attention to detail is phenomenal. Basically, you read comics like Ms. Marvel twice at the very least. The first time around, you read it (urgently) for the story. The second time around, you let yourself drink in the details and get a buzz from all the meticulous work Alphona and Wyatt have put into it. (A third time, though optional, is recommended– because why not! It's Kamala freaking Khan!)
Story-wise, this volume picks up a little after where the last instalment concluded. You see Ms. Marvel getting a hang of her powers, slowly building up a reputation in her city, and investigating the Inventor. My favourite part about this volume though is Kamala's inner monologues. I don't think I ever really appreciated those yellow thought boxes as much as I did while reading Generation Why. Reading Kamala's thoughts, her fears, her bravery, her list of observations on "heroing" is all very entertaining …
A problem has to get pretty gigantic before anybody notices anything at all. Noticing is half the battle. Noticing, and not being afraid.
… but also a little sad. We realize that the things that make Kamala such a phenomenal person are the both her humanity and her inhumanity, that only two (maybe three) people can see the truth of that dichotomy, how it chafes on Kamala, how she manages anyway. It's a pretty lonely job. At one point, when Kamala find out something life-altering, she says:
I am alone in the universe.
And because that's all grieving you get from her, the wave of feels will hit you hard. Trust me. (Especially since she is surrounded by Bruno and Lockjaw, the only ones who know both her identities rather well.) She turns her sorrow into determination (maybe a little anger) and throws herself into heroing again …
The ending of the book is a roller-coaster of emotions.
Kamala has to deal with a) everyone dumping on her generation b) having all kinds of dual identities c) not knowing what at least one of her identity actually means and oh, yeah, d) having to fight a baddie who gets smarter with every showdown. I don't want to give anything away; what I will say is that the next book is looking bigger and better than the first two volumes combined, especially given that– on the topic of companionship and mentorship, at least– Generation Why ended on an ambiguous note. Kamala managed to make new friends under the guise of Ms. Marvel, but what about the ones who know her without a mask on? I, for one, cannot wait to see how Kamala and Nakia'a friendship progresses. Also, her friendship with Bruno. And Lockjaw, who seems like just a giant friendly dog who can teleport but … what else is he? Oh, also, I want to know if Wolverine ever buys Ms. Marvel that gyro he promised. (Ugh. I wish these volumes were longer. Can that be the one con? Ms. Marvel isn't ever long enough for me.)
Obviously, recommended! Beg, borrow, or buy: just read it.